You are here
Cisco SD-WAN (Advanced) Video Bundle
Topic:
Cisco Software Defined WAN (Advanced)
Total Duration:
17 Hours 15 Minutes (approx.)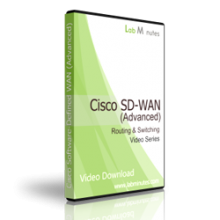 This video bundle features a complete video download set for Cisco Software Defined WAN (Advanced). With over 16 hours of lab video tutorial, you will be able to get up to speed and become more familiar with the technologies. Buy this video bundle and view them locally ad-free on your computer at your own pace without internet connection, and get a saving over 12%. This video bundle takes the foundation knowledge you already have on Cisco SD-WAN (Viptela) technology and applies it towards advanced capabilities. The main focus of this video series is around policy configuration and how it allows you to take advantage of Cisco SD-WAN to it fullest. The topics covered include traffic engineering across multiple transports, routing topology manipulation, QoS, security with segmentation and ZBFW, and much more. This is a great learning opportunity to take you Cisco SD-WAN knowledge to the next level.
Please note that this video series is a continuation of our
Cisco SD-WAN (Basic)
and does not cover device installation or basic connectivity establishment. If you are new to Cisco SD-WAN, we recommend you watch our
Cisco SD-WAN (Basic) video series
prior to getting into our Advanced series. This video bundle will be eligible for any future video releases that are considered advanced (under our 60-day policy), and NOT eligible for any videos released under the
Cisco SD-WAN (Basic) video bundle
.
Not knowing which video to start with?
We can skip ahead to your topic of interest, although there are some configuration dependency of previous labs. To maximize learning experience, we recommend all videos to be viewed sequentially.
Video List
RS0148 - SD-WAN Policy Overview
RS0149 - SD-WAN Local BGP OSPF Route Control
RS0150 - SD-WAN TLOC Extension
RS0151 - SD-WAN Dual Transports
RS0152 - SD-WAN Traffic Engineering (Control)
RS0153 - SD-WAN Topology
RS0154 - SD-WAN ACL FW and Traffic Engineering (Data)
RS0155 - SD-WAN Application-Aware Routing
RS0156 - SD-WAN Multicast
RS0157 - SD-WAN QoS and Mirroring
RS0158 - SD-WAN cFlowd
RS0159 - SD-WAN VPN Segmentation
RS0160 - SD-WAN Service Chaining
RS0161 - SD-WAN Network Address Translation
RS0162 - SD-WAN Zone-Based Firewall
RS0163 - SD-WAN Cloud OnRamp SaaS
RS0164 - SD-WAN Programmability