You are here
Cisco ISE 2.0 Video Bundle
Topic:
Cisco Identity Services Engine (ISE) 2.0
Total Duration:
13 Hours 30 Minutes (approx.)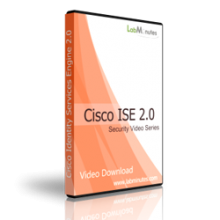 This video bundle features a complete video download set for Cisco ISE 2.0. With over 13 hours of lab video tutorial, you will be able to get up to speed and become more familiar with the technologies. Buy this video bundle and view them locally on your computer at your own pace without internet connection, and also save over 38%. 
This video bundle is complementary to our Cisco ISE 1.1, 1.2, and 1.3 video series, and focuses more on the new advance features introduced in ISE 2.0. There is very little content overlapping between this series and our previous ones. You should not expect to gain complete knowledge of the technology solely from viewing this video series. It is recommended that you have either basic understanding of ISE, have some prior configuration experience, or have watched our ISE 1.1, 1.2, and 1.3 video series as we will not cover ISE basic features in detail in this series.
Note that the lab configuration in this video series is built from our ISE 1.3 video series
Not knowing which video to start with?
We recommend you at least watch the first feature update video to get basic overview of what is new in this ISE release. Subsequent videos can be skipped around as these labs are built with minimal dependency of one another, although we still recommend you view them sequentially if possible.
For ISE newcomers, here is the video guide that will help you get started on ISE fundamentals. 
Video List
SEC0204 - ISE 2.0 New Features and Web Interface Update

38:13
SEC0205 - ISE 2.0 TACACS+ Device Admin with Shell Profile

42:51
SEC0206 - ISE 2.0 TACACS+ Device Admin with Command Authorization

25:22
SEC0207 - ISE 2.0 Migration Tool

46:42
SEC0208 - ISE 2.0 802.1X Switch Config with Identity Cotrol Policy

51:25
SEC0209 - ISE 2.0 3rd Party NAD (Aruba MAB 802.1X)

44:57
SEC0210 - ISE 2.0 3rd Party NAD (Aruba Guest Posture BYOD)

39:04
SEC0211 - ISE 2.0 Location Based Authorization

24:24
SEC0212 - ISE 2.0 Certificate Provisioning Portal

31:01
SEC0213 - ISE 2.0 Internal CA SCEP with AnyConnect VPN

41:04
SEC0214 - ISE 2.0 Meraki MDM with Wireless

41:17
SEC0215 - ISE 2.0 Meraki MDM with AnyConnect VPN

36:26
SEC0216 - ISE 2.0 TrustSec - Network Device Authentication

47:10
SEC0217 - ISE 2.0 TrustSec - SGT Assignment

31:12
SEC0218 - ISE 2.0 TrustSec - SGACL

46:05
SEC0219 - ISE 2.0 TrustSec - FlexVPN and ZBFW

46:46
SEC0220 - ISE 2.0 TrustSec - SXP

48:20
SEC0221 - ISE 2.0 TrustSec - MACsec

39:09
SEC0222 - ISE 2.0 pxGrid with ASA Firepower

62:33
SEC0223 - ISE 2.0 Adaptive Network Control (ANC)

31:03