You are here
Cisco ISE 1.1 Video Bundle
Topic:
Cisco Identity Services Engine (ISE) 1.1
Total Duration:
11 Hours 45 Minutes (approx.)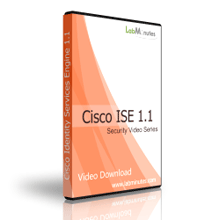 This video bundle features a complete video download set for Cisco ISE 1.1. With almost 12 hours of lab video tutorial, you will be able to get up to speed and become more familiar with the technologies. Buy this video bundle and view them locally on your computer at your own pace without internet connection, and also save over 50%. To make sure that you can follow our
Cisco ISE Video Guide to Installation and Configuration
, we have included five bonus videos for free. 
Not knowing which video to start with?
Here is the
video guide
that will help you determine the order of the video you should watch them in to get the most out of your time. All videos mentioned in this guide are included in this video bundle.
Video List
SEC0028 - ISE 1.1 VMware Installation

14:14
SEC0030 - ISE 1.1 Node Registration with Self-Signed Certificate

10:04
SEC0031 - ISE 1.1 Node Registration with CA-Signed Certificate

14:24
SEC0032 - ISE 1.1 Introduction to Web Interface & Basic Configuration

37:47
SEC0033 - ISE 1.1 AD Integration and Identity Source Sequence

15:43
SEC0034 - ISE 1.1 LDAP Integration and Identity Source Sequence

09:13
SEC0035 - ISE 1.1 Device Admin RADIUS Authentication

25:12
SEC0036 - ISE 1.1 Device Admin RADIUS Authorization

17:48
SEC0037 - ISE 1.1 Backup Restore

15:09
SEC0038-39 - ISE 1.1 802.1X Switch & WLC Recommended Config

43:43
SEC0040-41 - ISE 1.1 Profiling, Probing, and MAC Authentication Bypass

49:51
SEC0043 - ISE 1.1 Wired 802.1X and Machine Authentication with PEAP

26:31
SEC0044 - ISE 1.1 Wireless 802.1X and Machine Authentication with PEAP

21:10
SEC0045 - ISE 1.1 Wired 802.1X and Machine Authentication with EAP-TLS

20:34
SEC0046 - ISE 1.1 Wireless 802.1X and Machine Authentication with EAP-TLS

15:29
SEC0047 - ISE 1.1 iPhone SCEP Certificate Install with EAP-TLS

20:54
SEC0048-49 - ISE 1.1 User and Machine Authentication with EAP Chaining

33:49
SEC0050 - ISE 1.1 BYOD (Part 1) - Wired 802.1X Onboarding

31:36
SEC0051 - ISE 1.1 BYOD (Part 2) - Wireless Onboarding Single SSID

15:04
SEC0052 - ISE 1.1 BYOD (Part 3) - Wireless Onboarding Single SSID Testing

20:10
SEC0053 - ISE 1.1 BYOD (Part 4) - Wireless Onboarding Dual SSID

09:35
SEC0054 - ISE 1.1 BYOD (Part 5) - Wireless Onboarding Dual SSID Testing

18:00
SEC0055-56 - ISE 1.1 Posture Assessment with NAC Agent

41:14
SEC0057 - ISE 1.1 Posture Assessment with Web Agent

22:27
SEC0058-59 - ISE 1.1 Sponsor and Guest

35:51
SEC0060 - ISE 1.1 Patch Install and Rollback

07:34
SEC0062-63 - ISE 1.1 Security Group Access (SGA) with ASA 9.1 TrustSec

39:11
Bonus Videos
SEC0009 - Windows 2008 Enterprise CA SCEP Installation

30:30
SEC0011 - Windows 2008 CA SCEP Auto-Enrollment Options

15:37
SEC0029 - Windows 2008 CA User and Computer Certificate Auto-Enrollment

12:52
SEC0042 - Windows 2008 Wired and Wireless Setting Deployment with GPO

10:22
SEC0061 - Introduction to Cisco TrustSec

5:29