You are here
Cisco FlexVPN Video Bundle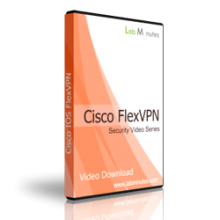 This video bundle features a complete video download set for Cisco FlexVPN. With almost 15 hours of lab video tutorial, you will be able to get up to speed and become more familiar with the technologies. Buy this video bundle and view them locally on your computer at your own pace without internet connection, and also save over 18%. 
This video bundle begins by laying down foundation on IKEv2 protocol, and helps you understand configuration construct of FlexVPN. It then gets you into series of configuration scenarios that are most commonly found in a typical FlexVPN deployment including site-to-site, hub-and-spoke, and remote access VPN. It is recommended that you have basic understanding of some of the related technologies like IPSec, RADIUS, PKI, Certificate, and possibly the predecessor protocol; IKEv1.
Not knowing which video to start with?
The videos in this particular video series is designed to be watched sequentially as our lab configuration is usually based on the preceding lab, especially if you are new to FlexVPN. If you already have some experiences, you may proceed to the desired video.
Video List
SEC0251 - FlexVPN Introduction to IKEv2

14:04
SEC0252 - FlexVPN IKEv2 Basic Configuration

58:05
SEC0253 - FlexVPN L2L with Pre-Shared Key

48:45
SEC0254 - FlexVPN L2L with Certificate

63:21
SEC0255 - FlexVPN L2L with Static and Dynamic Routing

40:34
SEC0256 - FlexVPN L2L with Next Generation Encryption

49:47
SEC0257 - FlexVPN L2L with Dynamic Virtual Tunnel Interface (DVTI)

68:47
SEC0258 - FlexVPN L2L with dVTI and External PSK

46:34
SEC0259 - FlexVPN L2L with Spoke-to-Spoke

38:11
SEC0260 - FlexVPN Server with Router Client

74:57
SEC0261 - FlexVPN Server with AnyConnect Client

65:26
SEC0262 - FlexVPN Server with Windows IKEv2 Client

44:15
SEC0263 - FlexVPN Server with Local and External Authorization

62:12
SEC0264 - FlexVPN with FVRF and IVRF

56:46
SEC0265 - FlexVPN Redundancy with Dual Hub Dual Cloud

73:15
SEC0266 - FlexVPN Redundancy with Dual Hub Single Cloud

93:23