You are here
Cisco ASA FirePower Video Bundle
Topic:
Cisco ASA FirePower (SourceFire)
Total Duration:
9 Hours 45 Minutes (approx.)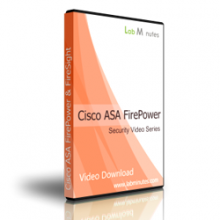 This video bundle features a complete video download set for Cisco ASA FirePower. With almost 10 hours of lab video tutorial, you will be able to get up to speed and become more familiar with the technologies. Buy this video bundle and view them locally on your computer at your own pace without internet connection, and also save over 18%.
Not knowing which video to start with?
In this video series, we recommend watching videos SEC158-166 in this particular order to ensure that you have the base system setup properly. Once you have an Access Control policy setup, you can either continue with the video sequence if you want to learn all of the available features, or jump directly to videos containing features that you specifically are looking to implement. 
Video List
SEC0158 - ASA FirePower Service Installation 17:29
SEC0159 - ASA FirePower FireSight System Installation 11:35
SEC0160 - ASA FirePower FireSight Basic Configuration 29:37
SEC0161 - ASA FirePower Device Management and License Install 25:30
SEC0162 - ASA FirePower Software Update 10:58
SEC0163 - ASA FirePower Introduction to FireSight Web Interface 36:44
SEC0164 - ASA FirePower Network Discovery (Host and Application) 34:52
SEC0165 - ASA FirePower Network Discovery (User with AD User Agent) 25:16
SEC0166 - ASA FirePower Object and Access Control 38:51
SEC0167 - ASA FirePower Security Intelligence 22:54
SEC0168 - ASA FirePower Application Filtering 24:09
SEC0169 - ASA FirePower Custom Application Detector 23:49
SEC0170 - ASA FirePower URL and Web Category Filtering 28:38
SEC0171 - ASA FirePower File Type Filtering 31:04
SEC0172 - ASA FirePower Malware Detection 31:26
SEC0173 - ASA FirePower IPS Basic 30:07
SEC0174 - ASA FirePower IPS Advance 42:47
SEC0175 - ASA FirePower IPS Custom Rule 18:34
SEC0176 - ASA FirePower Compliance Enforcement with Whitelist 23:39
SEC0177 - ASA FirePower Event Correlation and Remediation 33:06
SEC0178 - ASA FirePower Traffic Profile 15:09
SEC0179 - ASA FirePower External User Authentication 16:27
SEC0180 - ASA FirePower Backup and Restore 11:58