You are here
Cisco ACS 5.x Video Bundle
Topic:
Cisco Secure Access Control System (ACS) 5.x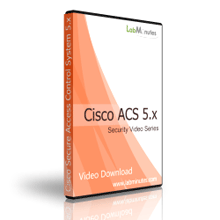 This video bundle features a complete video download set for Cisco ACS 5.x. With over 6 hours of lab video tutorial, you will be able to get up to speed and become more familiar with the technologies. Buy this video bundle and view them locally on your computer at your own pace without internet connection, and also save over 15%. To make sure that you can follow our
Cisco ACS 5.4 Video Guide to Installation, Configuration, and Deployment
, we have included two bonus videos for free. 
Not knowing which video to start with?
Here is the
video guide
that will help you determine the order of the video you should watch them in to get the most out of your time. All videos mentioned in this guide are included in this video bundle.
Video List
SEC0010 - ACS 5.3 VMware Installation

17:50
SEC0082 - ACS 5.4 Introduction to Web Interface and Basic Configuration

20:47
SEC0083 - ACS 5.4 Certificate Install

07:37
SEC0084 - ACS 5.4 AD Integration and Identity Store Sequences

07:01
SEC0085 - ACS 5.4 LDAP Integration and Identity Store Sequences

06:45
SEC0086-87 - ACS 5.4 TACACS Device Admin on Switch and ASA

36:35
SEC0088 - ACS 5.4 Shell Privilege and Command Authorization

20:39
SEC0089 - ACS 5.4 TACACS Device Admin on WLC

18:19
SEC0090-91 - ACS 5.4 Wired and Wireless MAC Authentication Bypass (MAB)

24:34
SEC0092-93 - ACS 5.4 Wired 802.1X PEAP EAP-TLS with Machine Authentication

22:30
SEC0094-95 - ACS 5.4 Wireless 802.1X PEAP EAP-TLS with Machine Authentication

18:31
SEC0096 - ACS 5.4 AnyConnect VPN RADIUS Authentication and Authorization

21:20
SEC0097 - ACS 5.4 Directory Attribute and User Custom Attribute

16:46
SEC0098 - ACS 5.4 Object Export Add Update and Delete

20:42
SEC0099 - ACS 5.4 Distributed Deployment

23:06
SEC0100 - ACS 5.4 Backup Restore

09:44
SEC0101 - ACS 5.4 Patch Install and Remove

09:27
Bonus Videos
SEC0038-39 - ISE 1.1 802.1X Switch & WLC Recommended Config

43:43
SEC0042 - Windows 2008 Wired and Wireless Setting Deployment with GPO

10:22